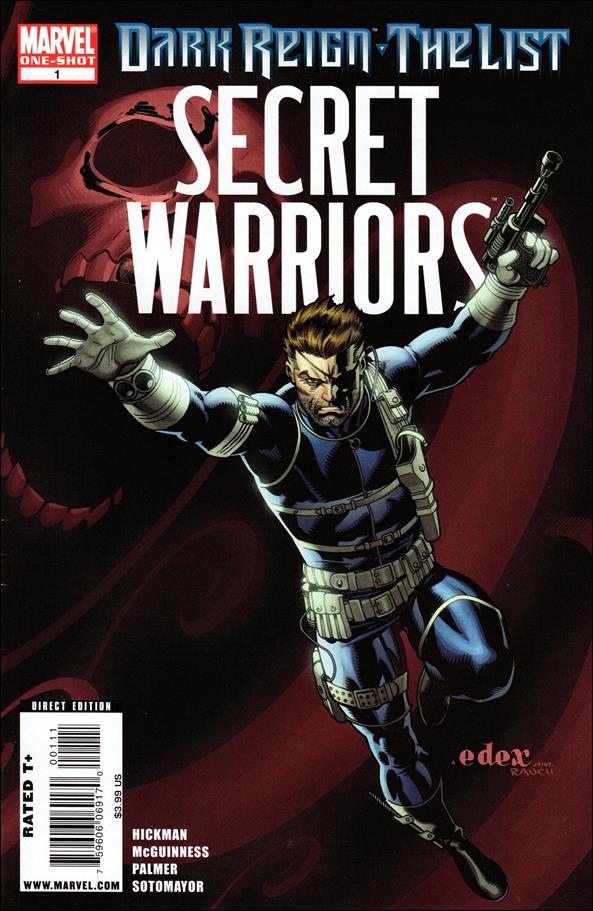 I am a big fan of
Johnathan Hickman's
work, and have been really enjoying his recent stint on Marvel's
Secret Warriors
title. Recently I realized that I had two Hickman comics waiting to be read, Secret Warriors #8 and the
Dark Reign - The List: Secret Warriors
one shot. I was thrilled with the realization that I was about to hunker down with two times the Hickman goodness. Well, I had just gotten through reading the issue of Secret Warriors and had cracked the cover of Dark Reign - The List, when I spotted the fine print at the bottom of the first page; that fine print explained that the events of this comic took place after the events of Secret Warriors #9, a comic which had not yet been released! Well, that sucked. I just didn't understand why the issue of Secret Warriors could be so late and that the one shot could still come out on time. Out of curiosity I went back and looked at the full page ad for the one shot and Secret Warriors 9 which had appeared in the back of Secret Warriors 8: to my surprise, issue 9 of the series had originally been scheduled to ship after the Dark Reign one shot! Well this really sucked and seemed kind of dirty pool for regular readers of the title. Why would Marvel schedule aone shot to come out on October 7th when the issue you would want to read before it was scheduled to come out on October 28th - a whole three weeks later!?!
My guess is that Marvel decided to have a Secret Warriors Dark Reign one shot and wanted it to come out then for reasons of shipping symmetry - the other one shoys were all coming out around the same time. Unfortunately this did not allow for the regular shipping schedule of the monthly Secret Warriors title which would be much later in the month. The upshot of this is that I had to put off a really cool book for a few weeks and Marvel found anew way to
put off
one of their readers...